The Sandman Will Keep You Awake - The Loop
Play Sound
Snowspeeders are T-47 airspeeders that the Rebels used on the snow planet of Hoth. They had harpoon tow cable guns, and could fit two people, one facing forward, and one facing backward. LEGO® made them five (six including the Mini set) different times. Once in 1999, twice in 2004, once in 2007, and once in 2010.
1999 Version
The 1999 version of the snowspeeder was made out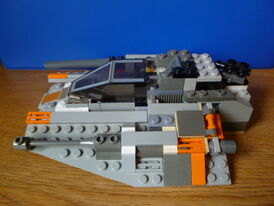 of 212 pieces, and was grey. Like the 2007, and 2010 versions, it's laser cannons were made out of a "brick with shaft 1X8x1" piece. And like the 2004 and the 2011 versions, it has an orange grill. It had its own set set called Snowspeeder, and it's set number was #7130.The set also came with a dish shaped anti-vehicle artillery P-Tower.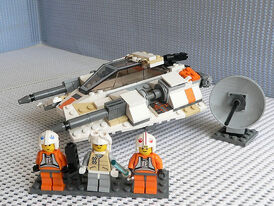 2004 Version
The 2004 version of the Snowspeeder was released in white.It too came with an anti-vehicle artillery P-Tower. The set was called Rebel Snowspeeder, and it included 3 minifigures: Luke Skywalker, Dak Ralter, and a Hoth Rebel Trooper. The Luke came with a blue Lightsaber, and the Rebel trooper came with a gun. On the back of the Snowspeeder was a harpoon gun, with a Lego harpoon, attached to a piece of string.
Second 2004 Version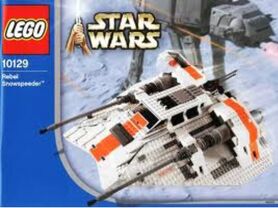 The second Snowspeeder made in 2004 was a Ultimate Collector's Set. It had a massive 1,457 pieces! and came with a collecter's card and display stand. It's set number was 10129, and it's set name was Rebel Snowspeeder. The cockpit and outside of the ship were extremely detailed, and it had moving controls on the inside. The set was not made for minifigures, and it was much bigger than the other Lego snowspeeders.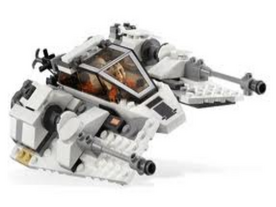 2007 Version
The 2007 version of the rebel snowspeeder was included in the setHoth Rebel Base. The speeder was supposed to be the speeder that was used by Luke Skywalker and Dack Ralter, because the set came with they're minifigures. This set was unique in a way, because the front grill was grey, instead of orange like all the other snowspeeders. This was the first first snowspeeder to include a harpoon piece.
2008 Mini set
2010 Version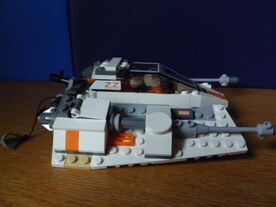 2011 Mini version