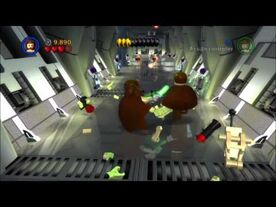 This is the first level in
Lego® Star Wars: The Video Game
and
Lego® Star Wars: The Complete Saga
.
Opening Crawl
Turmoil has engulfed the Galactic Republic! With a blockade of deadly battleships, the Trade Federation has stopped all shipping to the small planet of Naboo.
The Supreme Chancellor has secretly dispatched Jedi Knights Qui-Gon Jinn and Obi-Wan Kenobi to settle the conflict...
Story Characters
Playable
Non-Playable

​'''PLOT
IN A REPUBLIC CRUISER, JEDI MASTER QUI-GON JINN AND HIS APPRENTICE, OBI-WAN KENOBI, ARRIVE ON A TRADE FEDERATION SHIP. THE PLAYER FIRST FIGHTS B1 SECURITY DROIDS, THEN B1 BATTLE DROIDS. THEN MEETS TC-14. NEXT PLAYER FIGHTS TO HANGAR, ENCOUNTERS DROIDEKAS, AND LEAVES.
TRUE JEDI= 31,000