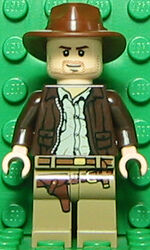 Professor Henry "Indiana" Walton Jones, Jr. is a professional treasure hunter. He worked as a part-time professor at Marshall College until 1937, after that he worked at Barnett College. Indy always carries around his whip. In the game Lego® Star Wars: The Complete Saga, Indy is featured as an unlockable character. His weapons are his whip and a bullet pistol gun. To get him, you must watch the trailer of his video game, Lego® Indiana Jones: The Original Adventures then buy him for 50,000 Lego studs.
Trivia
In Lego Star Wars: The Complete Saga, he has Han Solo's face for 2 reasons.
1: His face wasn't made yet.
2: Both characters were played by Harrison Ford.
External links