---
---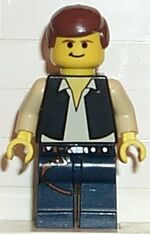 This version of Han Solo is when he is a smuggler for Jabba the Hutt. Han has blue pants, and a white shirt with a black vest.
Role in Lego® Star Wars
There are three versions of this minifigure. The first one appeared in the 7190 Millennium Falcon Lego® Star Wars set. The minifigure in this set from 2000 featured legs in a lighter blue than the previous releases. The next release was from 2004, this version included in the 4501 Mos Eisley Cantina. It was identical to the version from 2000 but the legs were cast in a darker blue. The last version of this minifigure was included in the 7965 Millennium Falcon set from 2011. This version featured a new hair colour and a new head sculpt. It also featured a new legs sculpt. This minifigure also featured flesh colour. The torso remained identical to the previous releases.
Sets