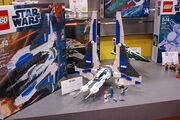 Pre Vizsla's Mandalorian Fighter is a set with a brand new Pre Vizsla minifigure. It also includes a rerelease of the Obi-Wan (Clone Wars) minifigure. This set was released in June, 2012. It consists of 403 pieces and is originally retailling for US-$ 49.99.
Description
The 9525 Mandalorian Fighter includes two minifigures that were released before: Obi-Wan (Clone Wars) and a Mandalorian. It features a new minifigure: Pre Vizsla, which is basically a repainted version of a regular Mandalorian. Vizsla is equipped with a shoulder pauldron and a darksaber. The set itself is similarly shaped as 7931 T-6 Jedi Shuttle. The wings of the Fighter can rotate and the vessel feaures a retractable landing gear. The cockpit of the ship can be opened and holds up to two minifigures. The Mandalorian Fighter also includes a compartment for storing the darksaber and a cargo hatch.
 	 	   

LEGO.com Description
Lead the Mandalorians into battle!
Intent on returning the Mandalorians to their warrior ways, Pre Vizsla is returning to his secret base in his Mandalorian Fighter, the Gauntlet, after striking a deal with the evil Separatists. Can Obi-Wan follow him and prevent Pre Vizsla from plunging the galaxy into turmoil? The Gauntlet features rotating wings and turning cockpit for flying or landing modes, retractable landing gear, opening cockpit and cargo hatch. Includes 3 minifigures: Pre Vizsla, Mandalorian and Obi-Wan Kenobi.
Includes 3 minifigures: Pre Vizsla, Mandalorian and Obi-Wan Kenobi
Features rotating wings and cockpit, retractable landing gear, opening cockpit with space for 2 minifigures, darksaber compartment and cargo hatch
Accessories include medium blaster, Obi-Wan's Lightsaber and Pre Vizsla's darksaber
Rotate the wings!
Battle Obi-Wan!
Load up the cargo!
Pre Vizsla's Mandalorian Fighter™ measures over 2"(6 cm) high, 12" (32 cm) wide and 12" (33 cm) long