The 9488 Elite Clone Trooper & Commando Droids Battle Pack is a LEGO Star Wars set which was released on January 1, 2012. It features minifigures of an ARC Trooper, an ARF Trooper and two Commando Droids. This set also includes a cannon which is operated by the two included clone troopers. All the minifigures were exclusive to the set, and had never been released before. In the back of the instructions was a small comic, featuring minifigures from the set.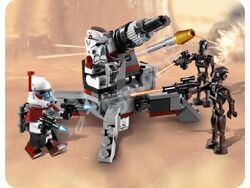 Features
Cannon
The cannon included in the set had 4 legs that could move. On top of them was a rotating cannon with a chair next to it. In front of the chair was a handle that could move up and down for the minifigure to grip. The cannon's turret did not rotate, but underneath was a gold flick-fire missile. The missile could be launched by pressing a button on the opposite side.
LEGO.com Description
Bombard the Separatist forces with the Republic artillery cannon! The Separatists have sent a new droid enemy to attack the forces of the Republic, but the clone army's elite troopers have a new weapon of their own: the powerful Republic artillery cannon! With elevating turret and flick missile, those clankers will be running for cover! Includes 4 minifigures: ARC trooper, ARF trooper and 2 new enemy Commando Droids.
Includes 4 minifigures: ARC Trooper, ARF Trooper and 2 Commando Droids
Features Republic artillery cannon and 5 blasters
Republic artillery cannon features flick missile
Elevate the turret!
Fire the flick missile!
Republic artillery cannon measures over 5" (13 cm) long and 3" (8 cm) tall