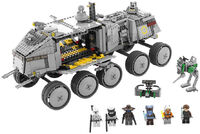 8098 Clone Turbo Tank is a set released in 2010.
Description
Set
Turbo Tank
The Clone Turbo Tank is the third Turbo Tank model to be released, after the original Episode III variant 7261 Clone Turbo Tank and a Mini set, 20006 Mini Clone Turbo Tank. It is also the largest Turbo Tank ever released. The tank itself is 45cm long and has ten brand new wheels for suspension. It features a number of flick missiles and can be opened up to fit minifigures on the inside. It can also be clipped on to the Ultimate Collector's Series set 10195 Republic Dropship with AT-OT walker.
Walker
The Clone Walker is made up of various grey and green pieces. It has a cannon on the front and can fit one Clone Trooper in its cockpit.
Minifigures
8098 Clone Turbo Tank comes with 6 minifigures:
LEGO.com Description