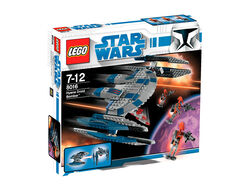 The 8016 Hyena Droid Bomber set is part of Lego®'s second wave of The Clone Wars line and was released in January 2009. In some places the set was released early, before Christmas 2008. Included are three Rocket battle droid minifigures and a Hyena droid bomber with releasable bombs. It is retailing at $19.99 in the US and £18.97 in the UK.
LEGO.com Description
Switch modes to demolish the Republic!
Switching between walker, bomber and attack modes, the Hyena Droid is a powerful multi-purpose weapon for the Separatists as seen in Star Wars: The Clone Wars. Features four dropping bombs and three all-new rocket battle droid minifigures.
Pivot the wings for flying and walking positions!
Includes 3 new droid minifigures with special jet packs!
Measures 10" (25cm) wide by 8" (20cm) long!
Sources