The 7749 Echo Base is a set that was released in 2009 as part of the 10th anniversary line. It includes two Snowtroopers, two Hoth Rebel Troopers, Han Solo (Hoth), and a Tauntaun. The set also includes a Hoth turret, an Imperial E-web Repeating blast turret, and a bunker. The top hatch of the turret can be folded backward to reveal a place for a minifigure with a backpack can sit. The flat white bricks that the bunker sits on are fairly fragile, and come apart very easily. This set was also the first set to include a Lego ® minifigure of a Tauntaun.
Features
The set contains several items, including an E-Web blaster, a Bunker made out of snow, a Tauntaun, and a Hoth Turret.
The E-Web blaster has a stand for attack built out of Lego switches, has a handle on the other end, and has a wire connecting to a "Battery-Box". It also has a cannon on the front.
The Bunker features a snowy enviorment, with a pipe coming out of the snow connecting to the Hoth Turret, giving it better connection. Behind the snow "base", there is a stand for Rebel Troopers to be placed. The stand is hinged so that it can be pushed backwards or forwards, allowing the Rebel Troopers to fall off and make it look like the Rebels got shot. There is also a crate in the Bunker.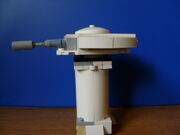 The Hoth Turret has an opening capsule to "enter", where a single minifigure can be placed. The Turret part on the top also swivels, and a big button on the back can be pressed to make two missiles on the side fire out. It also has an opening hatch on the top, revealing a space for a minifigure with a backpack to stand.