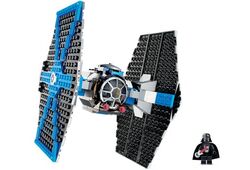 The TIE Fighter, set number 7263, was released in 2005. The set was originally retailing for $19.99 and contained 159 pieces. It includes minifigures of Darth Vader with a Light up Lightsaber and a TIE Pilot.
LEGO.com Description
Beware the might of the TIE Fighter™!
The most fearsome starfighter in the Imperial fleet is back! What the TIE fighter lacks in armor plating, it makes up for with incredible speed and twin turbolasers. Darth Vader commands this ship!
Open the TIE fighter's hatch and maneuver the solar wings.
Includes Darth Vader and pilot.