We're Getting Mutants in the MCU - The Loop
Play Sound
Watto's Junkyard is a set released in 2001. This set was originally retailing for $49.99, and includes minifigures Watto and Aldar Beedo. It also includes 2 Podracers, Aldar Beedo's podracer is blue, while Mawhonic's green. Though Mawhonic was not included in the set himself, he appeared in the Lego Star Wars: The Video Game.
Watto's Junkyard
The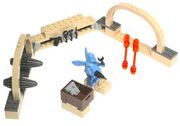 junkyard itself isn't all that big its just wattos shop (without a roof ) and wattos counter that he hovers behind.It has some tools at the back (or front) and has other tools in a box on the counter. it also has some junk like the:
Weird grey piecs
Podracer cables
Podracer energy Beams
Mawhonics wrecked pod
Aldar Beedo's Podracer
Aldar Beedo's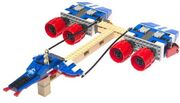 Podracer is Very Detailed with the 6 Airbrakes (that can be used in stopmotion), 2 air vents (1 on each engine) The red thing at the back of the cockpit and more... It also has room for Aldar Beedo in the cockpit and has 2 red thrusters on each engine.
Mawhonic's Podracer
The downside to this set is that you have to take apart the junkyard to build ma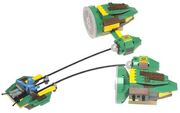 whonics podracer stand but you can buy parts to build another one form pick a brick on lego shop .Also mawhonic isn't included in the set, he could have been, he would be making a deal with watto to get his pod rebuilt, who knows he may be in the Character encyclopedia book or in a future podracer set.
The pod itself (when built) is very detailed, it has the flaps that move up and down when you turn (see Star Wars Episode 1 Racer and Star Wars Racer Revenge) it has a cockpit to fit a pilot (you could use watto) preferebly mawhonic but as you know he doesn't come with the set, but there are a few customs out there, check this one out: Lego Mawhonic. Mawhonic's Podracer also appears in the set Mos Espa Podrace.
LEGO.com Description
What will you discover in Watto's junkyard?
Build' a Podracer and other cool machines with the "junk" you find. But prepare for some pretty serious negotiations if you want to buy anything from Watto — he's the toughest wheeler-dealer on Tatooine! Set comes with Watto and Aldar Beedo. Ages 8+. 446 pieces.
Other Picture's