7163 Republic Gunship was a set released in 2002 and was originally sold for $89.99. It contained a Jedi Knight (Geonosis), four Clone Troopers (Episode II), two B2 Super Battle Droids, and a Droideka. It also contained a Republic Gunship. The Gunship had a crew bay covered by opening and closing doors, an engine under a hood on the top, two side turrets which moved in and out, and one supply locker on each side.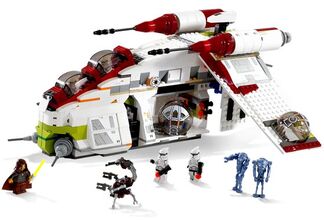 LEGO.com Description
Republic Gunship to the rescue!
Just when it seems like Obi-Wan Kenobi, Anakin Skywalker and Padmé Amidala are doomed — here comes the Republic Gunship to save the day! Manned by clone troopers, this mighty vessel is powerful enough to defeat any foe!
Open the front hatches to reveal the secret compartments inside!
Includes 2 Super Battle Droids, 1 Destroyer Droid, 4 Clone Troopers and 1 Jedi Knight!