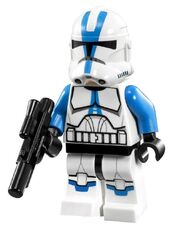 The 501st Clone Trooper is a minifigure released in 2013. It is a variation of the Clone Trooper that serves in the 501st Legion under Anakin Skywalker. It appears in the set 75004 Z-95 Headhunter alongside a 501st Clone Pilot and General Pong Krell and in the set 75002 AT-RT.
Background
The Clone Troopers of the 501st Legion served under Anakin Skywalker in the Clone Wars. They fought on Umbara, Geonosis and other battle grounds. Notable members include Captain Rex and Commander Appo.
Role in LEGO® Star Wars
The 501st Clone Trooper appears in the sets 75002 AT-RT and 75004 Z-95 Headhunter. It has white legs with blue markings and his torso is white with blue and black armour to depict his clone body armour. His arms are blue and his hands are black, holding a blaster. His head is the typical clone head and his helmet is the second variation of the Phase II helmet with blue markings.
Appearances