Jabba's Palace, set number 4480, was released in 2003. The set was originally retailing for $29.99 and contained 234 pieces. It included minifigures of Princess Leia (Slave), Luke Skywalker (Jedi), Jabba the Hutt, a B'omarr Monk, EV-9D9, and a Power Droid. All the minifigures, except for Luke, were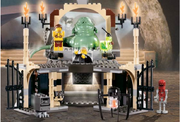 new, and first released in this set. The whole set could fold together to make it smaller, and close the gates. On the upper floor, there is a trap-door that can open and make the minifigures fall down into the Rancor pit, although there is no Rancor. Jabba also has a Gorg bowl next to him, so that he can eat them. It can also be connected with the 4475 Jabba's Message and 4476 Jabba's Prize sets on both sides.
LEGO.com Description
Can Luke save Leia from Jabba the Hutt™?
Build the palace of one of the nastiest creatures in the galaxy—Jabba the Hutt™! Jabba has captured Princess Leia™ and is holding her prisoner. Luke has come to save his friends, but he must look out for the many twists and traps! The palace floor opens and sends Luke tumbling to the dungeon below. Watch out for EV-9D9™ and her droid factory!
Includes Jabba the Hutt™, Luke Skywalker™, Princess Leia™, EV-9D9™, B'omarr Monk™, and a Power Droid™.
Community content is available under
CC-BY-SA
unless otherwise noted.