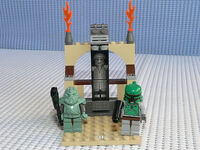 Jabba's Prize, set number 4476, was released in 2003. The set was originally retailing for $6.99 and contained 39 pieces. It includes minifigures of Han (Carbonite), Boba Fett and a Gamorrean Guard. It could be attached to the set 4480 Jabba's Palace.
LEGO.com Description
Free Han Solo™ from Jabba the Hutt™!
Boba Fett™ has delivered Han Solo™ frozen in carbonite to Jabba the Hutt™ -- and Jabba is so pleased he has hung his prize possession on the wall of his palace! If you want to free him, you'll have to get past the Gammorean Guard™. Release the mechanism to free Han! Combine this set with #4475 Jabba's Message and #4480 Jabba's Palace to complete the palace set.
Includes Boba Fett™, Han Solo™ in carbonite, and Gammorean Guard™.