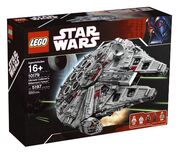 The 10179 Ultimate Collector's Millennium Falcon was once the biggest Lego® set ever released and still is the biggest Lego® Star Wars set ever made. This set was released in 2007 and contains 5,195 pieces and the instruction manual has 311 pages. The set included all the details of Han Solo's modified Corellian Engineering Corporation YT-1300 freighter from Episode IV: A New Hope. The ship is 33" long, 22" wide and 8" tall (84 cm long x 56 cm wide x 21 cm tall) and is completely made to scale with Lego® minifigures. The set also includes a display card with detailed ship specifications and the top and bottom quad-laser turrets can rotate. The radar dish also rotates and elevates and the boarding ramp can be extended. The cockpit top can be removed to access minifigures[1] and the top quad-laser turret can also be removed.
Minifigures
There are 5 minifigures included with this set:
Gallery
Notes and references
Community content is available under
CC-BY-SA
unless otherwise noted.